Area Info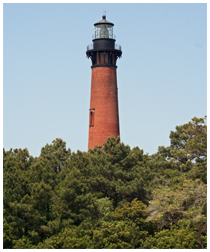 co•rol•la [kuh-rol-uh]
–noun Botany . the inner envelope of floral leaves of a flower, usually of delicate texture and of some color other than green; the petals considered collectively.
From Dictionary.com
On the extreme north end of the barrier islands known as the Outer Banks, lie the Currituck Banks. More commonly referred to as Corolla, it is bordered on the south by the town of Duck, in Dare County and extends north thru the cozy Village of Corolla and into the 11 miles farther "up the beach" that is only accessible four wheel drive vehicle all the way to the Virginia line. Its eastern border is defined by rolling sand dunes cascading on to a beach touching the Atlantic and its west reaches to the reflective waters of Currituck Sound. This unique topography on this narrow stretch of sand provides for some of the most spectacular waterfront sunrises and sunsets one can witness.
Relatively untouched by development until the mid 1980s, Corolla has since become the destination for Outer Banks visitor, providing unparalleled vacation homes in smartly planned communities and some of the most pristine beaches on the east coast. Corolla's late arrival to the development game has served the community well by careful planning with an eye towards protecting the area's natural beauty. There are several wildlife sanctuaries on the Currituck Outer Banks and visitors are often amazed at the abundance of natural beauty maintained on these shores. Native waterfowl, woodland creatures, the Corolla Wild Horses and vacationers live in harmony in Corolla.
The limited development has also allowed for careful commercial development. Shopping Villages dot the Currituck Banks providing a plethora of dining, shopping and recreational opportunities. Corolla also provides a wealth of cultural activities with the only natural red brick lighthouse on the east coast, a historic inter-denominational church, a museum dedicated to the Wild Horses of Corolla, a soundside Heritage Park housing a Wild Life Museum and the "Grand Dame of the Outer Banks, " the Whalehead Club. Summer concerts on the lawn, weekly wine tastings, an annual Art Show, Wild Horse Days, athletic competitions, and the Fourth of July Fireworks and Fair are popular events at Currituck Heritage Park.
Born of a small fishing and duck hunting village this sleepy community has given rise to spectacular vacation estates as well as cozy beach cottages, providing the ultimate destination for the romantic beach get away, the ultimate family reunion or the fairy tale wedding—there is something for everyone in Corolla. Back at the turn of the century when they named the Village after the parts of a flower, they certainly knew what they were talking about.